Return to Headlines
Principal's Update - November 24th, 2021
Dear Shawsheen Students, Parents/Guardians, and Colleagues,
I hope you and your loved ones enjoy a happy, healthy, and relaxing long weekend for the Thanksgiving holiday!
Quarter One Honor Roll
Congratulations to our students who earned High Honors and Honors for Quarter One! Their work ethic and achievements in both academic and vocational-technical courses is something they should all be proud of. Please join me in recognizing these students for their accomplishments.
Quarter One High Honors & Honor Roll 2021-2022 School Year
High Honors: to be eligible for High Honors at Shawsheen Tech, a student must receive no grade lower than an "A" for every course in which they are enrolled.
Honor Roll: to be eligible for the Honor Roll, a student must receive a minimum grade of "B" for every course in which they are enrolled.
Order Your Class Ring by Tuesday, November 30, 2021 & Get a Free Gift!
On Tuesday, November 23, Kate Toman, our representative from Jostens, presented information to the Class of 2024 on how to order Class Rings. All sophomores, juniors, and seniors are invited to place class ring orders, and those who do so before Nevember 30 will be eligible for a free gift from Jostens. Click here to order your class ring.
MSAA Sportsmanship Award Presented to the Shawsheen Tech Cheerleading Team
Please join me in congratulating our Cheerleading Team for earning the Sportsmanship Award from the MSAA this past weekend - Go Rams!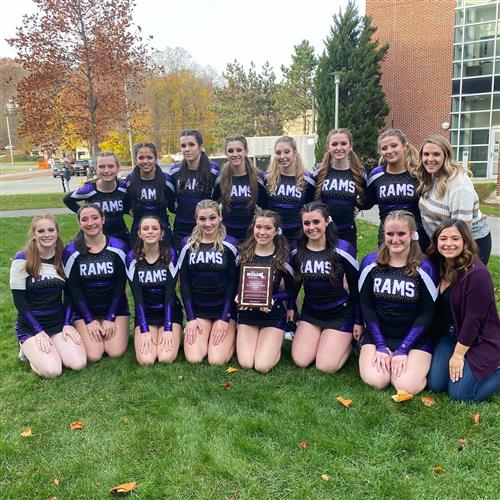 Congratulations to our 2021 CAC Boys Soccer All-Stars
Please join me in congratulating our 2021 CAC Boys Soccer All Stars - Go Rams!
Cam Camelio
Jeremy Perez
Noah Rizzo
Joe Woodward
Attention All Students: We Want to Feature Your Artwork & Writing in the Shawsheen Rams Literary Magazine
The following message is from one of your fellow students, Evan Sarno, a Junior at Shawsheen:
Every year the school produces a magazine featuring student artwork, writing of any kind, etc. The magazine is an amazing opportunity to submit work that may be published in an AWARD-WINNING magazine. It looks great on applications and resumes and is so much fun to be a part of. If you have any questions, contact Ms. LaBella, the literary editor in room 108 at slabella@shawtech.org, Mr. Michaud, the creative advisor in DVC at dmichaud@shawtech.org, or me at esarno23@shawtech.org.
The magazine is an awesome activity to be involved in and I can't recommend it enough. Anyone is encouraged to submit, regardless of grade-level. Tell your friends, tell your mom, tell your sister, tell your dog, spread the word of this opportunity! We can't wait to see all the submissions!
Register for Winter Sports by this Friday, November 26, 2021
Friendly Reminder to Winter Athletes: Any student-athlete interested in participating in a Winter Sport, MUST register on FamilyID and upload a current physical by Friday, November 26. Click Here to Register
No Food or Drink Allowed in the Coach Mark Donovan Gymnasium
With winter sports quickly approaching, the Athletics Department wants to remind everyone that no food or drinks (other than water) will be allowed in the newly renovated Coach Mark Donovan Gymnasium. Thank you in advance for understanding and complying with this request when you come out to cheer on the Rams this coming winter sports season.
Reminder for Seniors: Friday, December 3 is the Deadline for Senior Yearbook Photos & Cap and Gown Orders
Yearbook Photos: Email your senior photo to yearbook@shawtech.org by Friday, December 3, and include your full name and shop in that email. You will receive a confirmation email back once it is received.
Cap & Gown Orders: Cap & gown packages (which include a cap, gown, tassel and stole) are available to order through Jostens for $33. Orders must be placed by Friday, December 3, 2021. Click HERE for a "How to Order" Video

Late fees may apply if not ordered by this date.
Haven't ordered your class ring yet?? Use PROMO code SENIORGIFT40 for $40 off your ring!
Questions? Jostens is happy to help! Give them a call at 508-248-9095.
Best,
Jessica Cook
(she/her/hers)
Principal
Quick Links:
Reminders:
Friday, November 26, 2021: Registration for Winter Sports is due - Click Here to Register
Monday, November 29, 2021: Winter Sports Season begins
Tuesday, November 30, 2021: Class Rings Orders before this date will include a free gift - Click here to order your class ring
Friday, December 3, 2021: Deadline for Senior Yearbook Photos - email to yearbook@shawtech.org - include your full name & shop in that email
Friday, December 3, 2021: Deadline for Senior Cap & Gown Orders - Click HERE for a "How to Order" Video
Friday, December 10: Mid-term for Quarter 2
Thursday, December 23, 2021: Early Dismissal at 10:43am
Friday, December 24, - Friday, December 31, 2021: NO SCHOOL - Winter Break
Monday, January 3, 2021: NO SCHOOL - Professional Day (Staff Only)
Follow us on social media: