Return to Headlines
Principal's Update - March 11th 2022
Dear Shawsheen Students, Parents/Guardians, and Colleagues,
Please join me in congratulating our seniors of the month from the first half of the school year! The Senior of the Month program enables faculty a means to honor students during their senior year. From the monthly winners, one senior will be selected as the "Senior of the Year," which includes a scholarship sponsored by The Billerica Lodge of Elks. Criteria includes evaluation of character, leadership, citizenship, service to school & community, scholastic achievement, and vocational competencies. Students are recognized for their accomplishments to their class as well as Shawsheen Tech, and are chosen with optimism that they will be outstanding alumni and members to the community after graduation.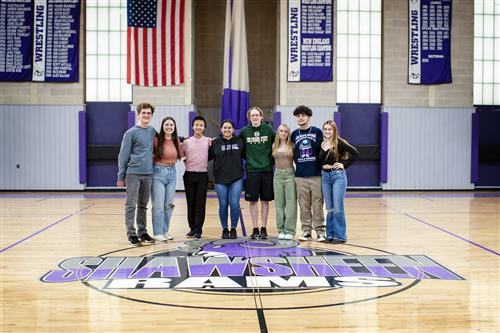 Shawsheen Tech High School's seniors of the month (L-R): Kevin Stevens, Kasey McFadden, Victor Lam, Gabriela Ortiz, John Zembeck, Lee Singer, Connor Halko, Devin Sweeney.
Livestream Link for Tonight's Boys Hockey Game
The Rams will travel to Sandwich High School tonight for a 7:15pm game against Sandwich in round 8 of the MIAA D4 Boys Hockey State Tournament. You have the option to cheer them on from home by clicking this link. Go Rams!
Reminder for Seniors - Reporting to Co-op on March 22 & 23 during the ELA MCAS
In the Principal's Update from Friday, February 11, I wrote about upcoming schedule changes we have in place to accommodate the administration of MCAS exams to sophomores in March and May of this year. I want to remind all seniors that on Tuesday, March 22 & Wednesday, March 23, they are encouraged to report to co-op instead of school if they are able to do so. The full details for schedule changes on March 22 & 23 are shared again below:
Tuesday, March 22 & Wednesday, March 23 (ELA MCAS):

Freshmen & Juniors: Freshmen & Juniors will report to shop as they normally would during a week 2.
Sophomores: Sophomores will not report to academic classes. They will report to assigned locations to take the ELA MCAS.
Seniors: Seniors will not report to academic classes. Instead, seniors who have co-op jobs are approved to report to co-op both days (the co-op office has already notified co-op employers of this option). Seniors who remain in the building will be assigned to directed study halls. If shop space allows (this is shop dependent), seniors who are not on co-op may report to shop instead.
Student Parking Passes
Although there is currently a waiting list for student parking passes, interested students should still email Ms. Melaragni or report to the Dean's office to speak with Ms. Melaragni, to be added to the list. We will continue to distribute parking passes as spaces become available, and most spaces will become available for the final weeks of the school year after Senior sign-Out at the end of May.
Shawsheen Culinary Students Win Slider Challenge
On Tuesday, March 8, students in Shawsheen's Culinary Arts/Hospitality Management shop competed against students from four other vocational schools in a Slider Challenge and won 1st place! Go Rams! Pictured below (L-R): Ms. LaValley, Danielle Cella, Julia Lamin, Allison Dinelli, Ms. Greene, Joseph Arkalis.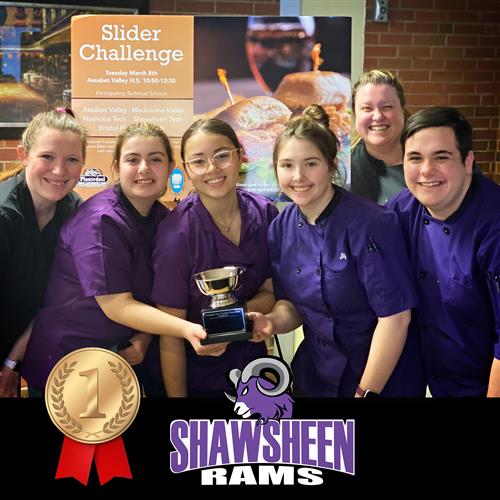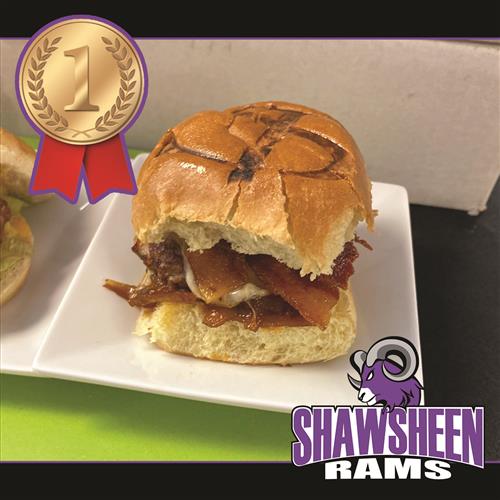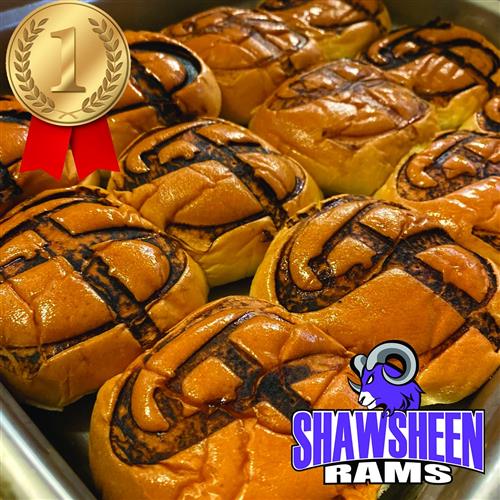 Congratulations to Freshman Shawsheen Wrestler Sidney Tildsley
Last weekend, Shawsheen freshman Sidney Tildsley won an individual championship at the New England Wrestling Championships in Providence, Rhode Island. He also set a record as the only freshman in Massachusetts to complete an undefeated wrestling season (with a record of 60-0) and win an individual New England Championship. Congratulations, Sid!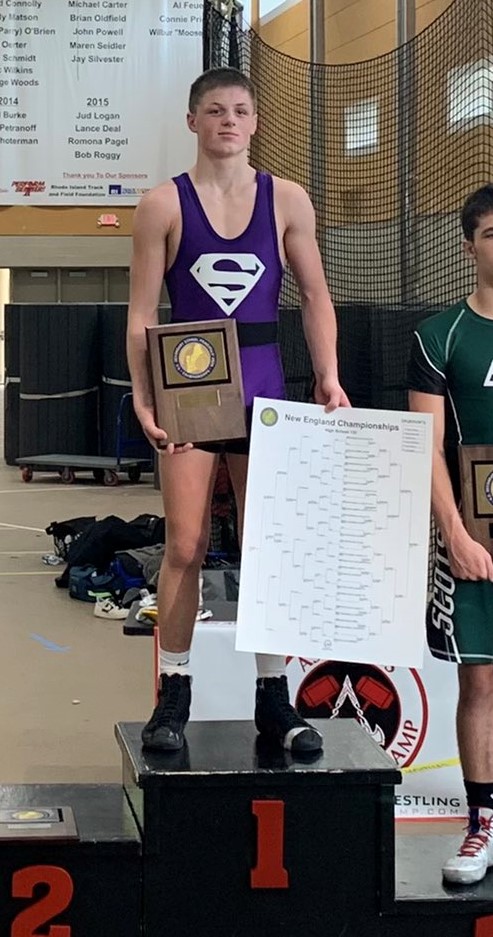 National Honor Society Induction Ceremony
The National Honor Society Induction Ceremony is scheduled for Wednesday, April 6, 2022 at 6:00pm in the cafeteria. We look forward to recognizing the achievements of this accomplished group of students that evening.
Q3 Mid-Term Progress Reports
Quarter 3 mid-term progress reports have been published and are available to view in the Aspen Family Portal. A link to the PDF copy of your child's progress report is available under the 'Published' section on the main page when you log into your Aspen Family Portal Account.

If you are having difficulty accessing the Aspen Family Portal please read the instructions below to submit a ticket at the following link: https://shawsheentech.sherpadesk.com/portal/
• Click on the green 'Submit Ticket' button
• Enter email address
• For Location, select: _Home
• For Class, select: _PARENT ASPEN LOGIN ISSUES
• Please provide all contact information
Exploratory Report Cards - Cycles 1-12
Exploratory report cards, containing final grades for exploratory cycles 1-12, have also been published and are available to view in the Aspen Family Portal, following the instructions outlined above for Q3 Mid-Term Progress Reports. Freshmen completed the 13th exploratory cycle today. The 14th and final exploratory cycle will take place the week of March 21-25.
Early Dismissal - Thursday, March 17, 2022
Thursday, March 17, 2022 will be a half day for students with an early dismissal time of 10:43am. The half-day schedule (also available in the SVTHS Student Handbook) can be referenced below.
| | | |
| --- | --- | --- |
| | Start Time | End Time |
| Homeroom | 7:30 | 7:35 |
| Period 1 | 7:39 | 7:59 |
| Period 2 | 8:02 | 8:22 |
| Period 3 | 8:26 | 8:46 |
| Period 4 | 8:49 | 9:09 |
| Period 5 | 9:13 | 9:33 |
| Period 6 | 9:36 | 9:56 |
| Period 7 | 10:00 | 10:20 |
| Period 8 | 10:23 | 10:43 |
Best,
Jessica Cook
(she/her/hers)
Principal
Quick Links:
Reminders:
Thursday, March 17, 2022: Early Dismissal at 10:43am
Monday, March 21, 2022: Spring Sports Season Begins - Click Here to Register (student-athletes must register before March 21 to participate)
Tuesday, March 22 - Wednesday, March 23: ELA MCAS (Seniors Report to Co-op)
Wednesday, March 30, 2022: ASVAB Test Registration Form due to Mr. Chapman in the Guidance Department
Friday, April 1, 2022: Quarter 3 Ends
Wednesday, April 6, 2022: ASVAB Test at Shawsheen for Registered Juniors & Seniors
Wednesday, April 6, 2022: NHS Induction Ceremony
Follow us on social media: