Return to Headlines
Principal's Update -December 9th 2022
Dear Shawsheen Students, Parents/Guardians, and Colleagues,
Today marks the mid-term for the second quarter of the school year. Quarter two progress reports will be published in the Aspen Family Portal by Friday, December 16, 2022. Parents/guardians and students will be notified via email once progress reports are available to view in Aspen.
Michael P. Ippolito Memorial Jamboree - Sunday, December 11, 2022
This Sunday, Shawsheen will be participating in the Mike Ippolito Memorial Jamboree fundraising event. The money raised will go toward six scholarships for senior athletes from Shawsheen, Wilmington, and Tewksbury. The cost for admission is $5.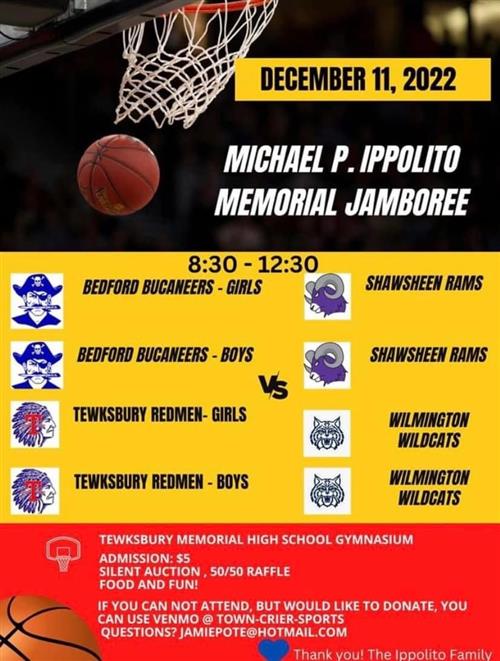 Reminder: Sophomore Registration for the PSAT 10 - Deadline is Friday, December 16, 2022
A meeting was held last Friday with all 10th grade students to notify them that we will be offering the PSAT 10 at Shawsheen on February 28, 2022. The PSAT 10 is a great opportunity for students to practice for the PSAT and SAT. Additionally, the assessment can be used as a qualifier for concurrent enrollment courses as well as scholarship opportunities. Students can sign up for the PSAT 10 with Mr. Harrison or Ms. McFadden during homeroom through Friday, December 16, 2022. You can view the presentation that was provided to sophomores last week by clicking on the following link: PSAT 10 Presentation.
Reminder: AFL-CIO Scholarship Exam 2023 - Registration Due by December 16, 2022
The following message is from the SVTHS Co-op Office:
The 65th annual Massachusetts AFL-CIO Scholarship Award Program application period is now open. This program will award over a half million dollars in scholarships this year. All graduating seniors in the Commonwealth of Massachusetts who are seeking a college degree or job training are eligible to compete. Students must register for the program before December 16, 2022 and take an online exam consisting of 30 multiple choice questions and one written essay. The test will be administered at Shawsheen Valley Technical High School during the week of February 6, 2023. Students can register for the scholarship exam by visiting the AFL-CIO website at www.massaflcio.org/scholarships and submitting the form. For more information please see your guidance counselor.
Reminder: National Honor Society and National Technical Honor Society Eligibility - Deadline to Apply is Thursday, December 22, 2022
Shawsheen's National Honor Society Adviser, Mr. McIsaac, has notified all juniors and remaining seniors of their eligibility to apply into the district's National Honor Society and National Technical Honor Society chapters. To be eligible to apply, juniors and seniors must have a 3.8 cumulative grade point average. The deadline to apply is Thursday, December 22.
Winter Sports Schedules
The winter sports season is underway, and all winter sports schedules are available to view online at the following link: 2022-2023 Winter Sports Schedules. Go Rams!
Best,
Jessica Cook
(she/her/hers)
Principal
Quick Links:
Reminders:
Friday, December 9: Quarter 2 Mid-Term Grades Close
Friday, December 16: PSAT Registration is Due - See Ms. McFadden or Mr. Harrison in Guidance During Homeroom
Friday, December 16: Registration for AFL-CIO Scholarship Exam is Due - www.massaflcio.org/scholarships
Thursday, December 22: NHS Application Deadline for Eligible Students
Thursday, December 22: Half-Day - 10:43am Dismissal for Students
December 23-January 2: NO SCHOOL - Winter Break
Tuesday, January 3: NO SCHOOL - Professional Day