Return to Headlines
Principal's Update - January 6th 2023
Dear Shawsheen Students, Parents/Guardians, and Colleagues,
Happy New Year! It was great to welcome students back into the building on Wednesday and it is hard to believe that freshmen have already completed the 9th cycle of exploratory. On Tuesday, Shawsheen educators reported to school for a professional day. This day included collaboration in inter-disciplinary groups focused on lesson planning & preparation, and a school-wide professional development session on "Autism Thinking" with The Autism Project. We will continue to extend this work through a Social Emotional Learning and Mental Health Grant we were recently awarded from the state. This grant will fund a few important initiatives, including the employment of a Board Certified Behavior Analyst for the remainder of the school year (to work with students and staff), Youth Mental Health First Aid training for staff, the adoption of a Universal Screening Tool, and after-school staffing to provide targeted supports to students.
Rampage - November/December 2022 Issue
The latest issue of the Rampage, Shawsheen's student newspaper, can be viewed at the following link: Rampage - November/December 2022 Issue. If you're interested in joining the newspaper club, please contact Mrs. Ouellette in DVC, in room 505 (next to the Dean's office).
PAC & SEPAC Meetings Next Week
Both the Special Education Parent Advisory Council (SEPAC) and the Parent Advisory Council (PAC) are scheduled to meet at Shawsheen next Tuesday, January 10, 2023. The Shawsheen SEPAC will meet at 6pm, and the Shawsheen PAC will meet at 7pm.
Open Gym at the Boys & Girls Club Hosted by the Billerica Police Department - Friday, January 13, 2023
The following message is from Officer Sarah Croke, our School Resource Officer:
Members of the Billerica Police Department will be hosting an open gym at the Boys and Girls Club in Billerica on January 13 from 5:00 – 7:00 PM. Pizza and drinks will be served. If a student is interested in attending, there will be a sign-up sheet at the main office. It is not necessary to sign-up in advance, students are welcome to drop in at any point during that time.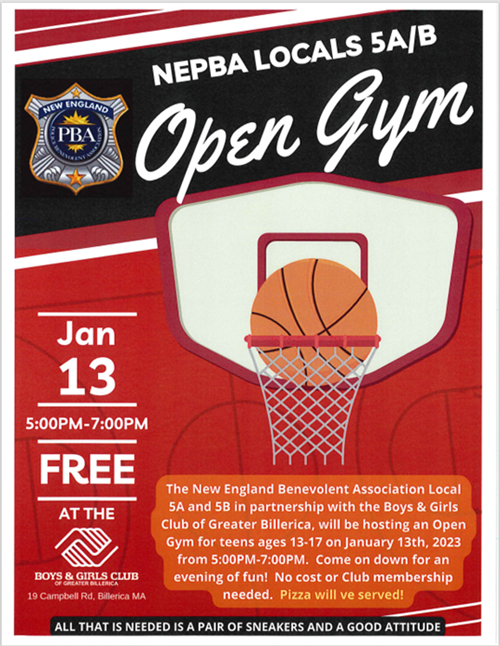 Virtual Internet Safety Presentation for Parents - Wednesday, January 18, 2023
The following information is from the United States Attorney's Office:
The United States Attorney's Office is hosting a virtual Internet safety presentation for parents the evening of Wednesday, January 18th from 6:30 – 7:30 pm. The presentation, entitled Keeping Kids Safe and Secure Online: A Project Safe Childhood Presentation for Parents will bring awareness to the dangers of the internet, including gaming and social media platforms that predators use to groom children with the intent of exploiting them sexually online or for an in person meeting. The presentation will focus on prevention by educating parents and community members how to help keep children safe online. We will be covering the following topics:
Social Media 101 & Digital Footprint
Cyberbullying
Sexting
Gaming
Victim Support `
Protecting Against Online Predation
Who should attend: Parents, guardians, local police departments, school administrators, youth program leaders and anyone who would like to learn how to keep children safe from online dangers. The presentation is free. Registration is required. The link to register is included on the flyer at the following link: 1.18.23 Internet Safety Flyer for Parents.
Quarter 2 Ends on Friday, January 20, 2023
We are two weeks away from the end of the second quarter. As always, teachers are available for extra help after school at least two days a week, the library is open after school Monday-Thursday, until 5:30pm (except on early release days), and late bus transportation is available for students who take advantage of these opportunities.
Reminder: School Calendar Update - February Half-Day Moved to February 8
Due to a conflict with retest dates for the Science MCAS, the half-day originally scheduled for Wednesday, February 1, 2023 has been moved to Wednesday, February 8, 2023. Please click on the following link for the updated version: 2022-2023 School Calendar (Revised on 12.20.22).
Best,
Jessica Cook
(she/her/hers)
Principal
Quick Links:
Reminders:
Tuesday, January 10: SEPAC Meeting at 6:00pm
Tuesday, January 10: PAC Meeting at 7:00pm
Monday, January 16: Martin Luther King Jr. Day - NO SCHOOL
Friday, January 20: Quarter 2 Ends
Wednesday, February 8: Half-Day - 10:43am Dismissal for Students