Return to Headlines
Principal's Update - January 13th 2023
Dear Shawsheen Students, Parents/Guardians, and Colleagues,
Congratulations to the grade 9 & 10 students who were recognized at the Citizenship Dinner on Wednesday Night! We look forward to recognizing grade 11 & 12 students at the Citizenship Dinner scheduled for Wednesday, January 25. The list of recipients from grades 9 & 10 can be viewed below.
| | | | | |
| --- | --- | --- | --- | --- |
| Landon | Babot | | Stephanie | MacKeen |
| Logan | Bentley | | Sydney | MacPherson |
| Jack | Bourque | | Jack | Martins |
| Tucker | Broughton | | Amaya | Maxi |
| Matthew | Carpinella | | Isabella | Minghella |
| Tara | Clark | | Allison | Morgan |
| Erin | Cornell | | Daniel | Moriarty |
| Jonathan | Dandridge | | Julia | Morin |
| Peter | D'Orsi | | Franck | Moron |
| Trevor | Engel | | Jacquelyn | Morrissey |
| Jeremy | Fone | | Daniel | O'Mahony |
| Pieris | Fowler | | Liliana | Poirier |
| Justin | Fricia | | Emily | Pumphret |
| Nicholas | Gattineri | | Olivia | Quinn |
| John | Haggerty | | Raina | Raposa |
| Elijah | Jimenez | | Sydney | Silva |
| Adriana | Kepple | | Logan | Sproul |
| Matthew | Kilfoyle | | Awshord | Vahora |
| John | Krisko | | Celia | Vindice |
| Tyler | LaMarca | | Michael | Ware |
Shawsheen students named Microsoft Office Massachusetts Champions!
Due to their exceptionally high scores in Microsoft Office certifications, three Shawsheen students have been named Massachusetts State Champions. The following students have been selected to compete in Certiport's 2023 Microsoft Office Specialist U.S. National Championship in Orlando, Florida this coming June. The competition is an excellent opportunity to meet and compete against students from all fifty states with an opportunity to win prizes, money and qualify for the World Championship competition. Congratulations Makenna, Logan, and Ben!
Makenna Diaz: Sophomore, Business Technology/Marketing – PowerPoint 2019
Logan Pyles: Junior, Business Technology/Marketing – Excel 2019
Ben Skorik: Junior, Business Technology/Marketing – Excel 2016
Free MCAS Test Preparation Programs
The following message was sent to parents/guardians of Shawsheen Sophomores on 1/9/23 by Ms. Danica Johnston, Director of Academic Programs:
Shawsheen is offering two free English Language Arts MCAS Workshops. Information on the dates, times, and registration can be found below. Attached to this email [see below] you will find additional information about both workshops. Please register soon as space is limited.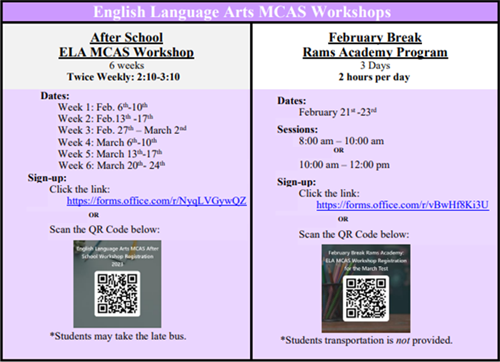 Reminder: Open Gym at the Boys & Girls Club Hosted by the Billerica Police Department - TONIGHT, Friday, January 13, 2023
The following message is from Officer Sarah Croke, our School Resource Officer:
Members of the Billerica Police Department will be hosting an open gym at the Boys and Girls Club in Billerica on January 13 from 5:00 – 7:00 PM. Pizza and drinks will be served. If a student is interested in attending, there will be a sign-up sheet at the main office. It is not necessary to sign-up in advance, students are welcome to drop in at any point during that time.
No School - Monday, January 16, 2023
Please note that there will be no school on Monday, January 16, 2023, in observation of Martin Luther King Jr. Day. We look forward to welcoming students back to a week 2 schedule on Tuesday, January 17, 2023.
School Council Meeting - Wednesday, January 18, 2023
The January School Council Meeting has been rescheduled and will now take place on Wednesday, January 18, 2023 at 2:30pm. You can view the agenda by clicking the following link: School Council Agenda - January 18, 2023.
Reminder: Virtual Internet Safety Presentation for Parents - Wednesday, January 18, 2023
The following information is from the United States Attorney's Office:
The United States Attorney's Office is hosting a virtual Internet safety presentation for parents the evening of Wednesday, January 18th from 6:30 – 7:30 pm. The presentation, entitled Keeping Kids Safe and Secure Online: A Project Safe Childhood Presentation for Parents will bring awareness to the dangers of the internet, including gaming and social media platforms that predators use to groom children with the intent of exploiting them sexually online or for an in person meeting. The presentation will focus on prevention by educating parents and community members how to help keep children safe online. We will be covering the following topics:
Social Media 101 & Digital Footprint
Cyberbullying
Sexting
Gaming
Victim Support `
Protecting Against Online Predation
Who should attend: Parents, guardians, local police departments, school administrators, youth program leaders and anyone who would like to learn how to keep children safe from online dangers. The presentation is free. Registration is required. The link to register is included on the flyer at the following link: 1.18.23 Internet Safety Flyer for Parents.
New State Behavioral Health Help Line
The following message is from the Massachusetts Department of Elementary & Secondary Education:
The Department of Mental Health has launched a new Behavioral Health Help Line that people can call or text at 833-773-2445. It is available 24 hours a day, seven days a week in more than 200 languages. The help line can help individuals and families navigate the behavioral health system and access treatment, including mobile crisis services. District and school leaders are asked to please share this resource with staff, families, and students, where helpful. For more information, please see the FAQ.
Mental Health and Gender-Affirming Care Resource Guide:
The following message is from the Massachusetts Department of Elementary & Secondary Education:
On January 4, the Attorney General's Office issued its "Mental Health and Gender-Affirming Care Resource Guide for Massachusetts LGBTQ2IA+ Young People and Their Trusted Adults." (LGBTQ2IA+ refers to the Lesbian, Gay, Bisexual, Transgender, Queer or Questioning, Two-Spirit, Intersex, Asexual, Aromantic, and Agender communities, along with all sexually- and gender-diverse peoples.) The guide is intended for LGBTQ2IA+ young people, their trusted adults, and supportive community members and focuses on mental health providers in every county who offer care that is affirming of sexual orientation, gender identity, and gender expression, including specialized services around domestic and sexual violence, housing assistance and shelter, and substance use disorder.
Reminder: Quarter 2 Ends Next Friday
Quarter 2 grades close next Friday, January 20, 2023. Quarter 2 report cards will be published and available to view in Aspen by Friday, January 27, 2023.
Best,
Jessica Cook
(she/her/hers)
Principal
Quick Links:
Reminders:
Monday, January 16: Martin Luther King Jr. Day - NO SCHOOL
Wednesday, January 18: School Council Meeting at 2:30pm
Friday, January 20: Quarter 2 Ends
Monday, February 1: School Council Meeting at 2:30pm
Wednesday, February 8: Half-Day - 10:43am Dismissal for Students
February 20-24: February Break - NO SCHOOL