Return to Headlines
Principal's Update - Friday, October 27th 2023
Dear Shawsheen Students, Parents/Guardians, and Colleagues,
Next Friday, November 3, marks the end of the first term. Quarter 1 report cards will be published and available to view in the Aspen Family Portal by the end of the day on Thursday, November 9. As a reminder, student progress can be monitored anytime through the Aspen Family Portal.
Registration for November Teacher Conferences
Parents/guardians will have the opportunity to meet individually with teachers during Parent/Guardian-Teacher Night on Thursday, November 16, 2023. Conferences are by appointment only, and parents/guardians will be required to register for appointments in advance. We will email registration links to all parents/guardians at 6pm next Thursday, November 2, 2023.
ALICE Drill
Our first ALICE drill of the school year is scheduled for Tuesday, November 7, 2023. Additional information will be sent to students and families next week regarding the ALICE drill.
Reminder: Attention Seniors - Cap & Gown Orders DUE TODAY, Friday, October 27!
Orders for graduation cap and gown packages are due by TODAY. There are many packages to choose from, but the Essential Package has all of the items you will need for graduation day (cap, gown, stole, and tassel) for a cost of $34. Click on the following link or use the QR code below: Shawsheen Valley Technical High School BILLERICA, MA - Graduation | Jostens.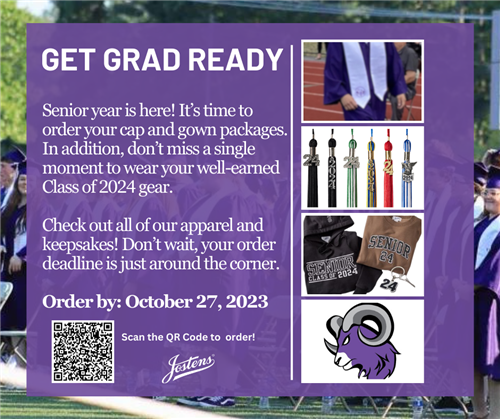 Reminder: Help Spread the Word - SVTHS Annual Open House - Sunday, November 5, 2023 from 2pm-4pm
Shawsheen Valley Technical School is excited to extend an invitation to all community members for its annual Open House on November 5, 2023, from 2:00 PM to 4:00 PM. This event is in-person and open to anyone interested in discovering the offerings of the Shawsheen Valley Vocational Technical School District. Prospective students, alumni, community members, business partners, and family and friends are encouraged to attend. The Open House serves as a comprehensive showcase of Shawsheen's diverse academic, career, and vocational-technical programs, as well as highlight our remarkable athletic teams. Additionally, an array of enriching extracurricular clubs and activities will be on display. This self-guided event will empower participants to explore the stunning Shawsheen campus while attending interactive demonstrations in both academic and vocational programs.
Best,
Jessica Cook
(she/her)
Principal
Quick Links:
Reminders:
Friday, October 27: Cap & gown orders due - Shawsheen Valley Technical High School BILLERICA, MA - Graduation | Jostens
Friday, November 3: End of Quarter 1
Tuesday, November 7: PAC Meeting at 7pm in the SVTHS Cafeteria
Wednesday, November 8: Monthly staff meeting at 2:15pm
Thursday, November 9: School Council Meeting
Friday, November 10: NO SCHOOL - Veterans' Day Observed
Thursday, November 16: Parent/Guardian-Teacher Conference, by appointment, 5pm-8pm
Friday, November 17: Half-day for students - 10:43am dismissal