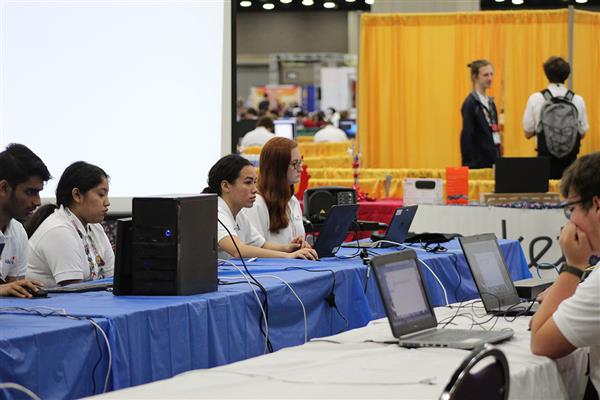 ISS&N / Programming & Web Development

The Internet is changing life as we know it – bringing new economic and social opportunities to communities throughout the world, and increasing the global demand for Information and Communication Technology (ICT) skills. Innovations such as social networking, cloud computing, e-commerce, web conferencing, and desktop virtualiza­tion are changing the way we live, work, play, and learn. These capabilities are all powered by networks, and orga­nizations around the world are experiencing a shortage of qualified ICT candidates to design, install, and manage these networks.

Shawsheen's students who complete the CSIT program are equipped with skills that can be used to adapt and meet the challenging workplace needs of the global shortage of experienced qualified Information and Computer Technology candidates.

Program Highlights

Careers Pathways

Installation, Repair & Troubleshooting of Personal Computer Systems
Microsoft, Apple & Linux based Operating System fundamentals and troubleshooting skills
Networking design, installation and troubleshooting of LAN, WAN, WLAN based networks
Help Desk services & best practices
Introduction to IOS and Android-based operating system features and functionality using tablets and smartphone devices.
Implementation of Security protocols and practices that safeguard confidentiality, integrity and availability of personal and corporate information.
Virtualization & Cloud-based technology implementation & Security basics
Introduction to Entrepreneurship & Technical Solutions for Small Business Planning
Introduction to Programming concepts using current development tools.
Introduction Database Management
Basic Website design using HTML and CSS programming
Introduction to Dreamweaver
Web 2.0 services are introduced, including Blogging and Website creation using Wordpress a Social Networking Authoring Tool.
Safety - OSHA Safety Standards CS-106 General Industry Certification
Ethical Issues related to electronic media.

Computer Support Specialist
Network or Computer Systems Administrator
Network and Computer Security specialist
Help Desk Technicians
Computer Systems Analyst
Database Administrator
Information Security Analyst
Computer Forensic Specialist
Web Developers
Computer Programmers

Additional Information


Programming and Web Development program

Students are prepared for CompTia's Aplus & Microsoft Technology Associate certifications among others. Our students experience hands-on labs in class and online-based curriculum. Curriculum vendors include Cisco, Testout, VMware, and Microsoft. We are also incorporating podcasts from ITunes university and other electronic media available through Apple resources..